Wes Peden (born May 9, 1990) is an American juggler from Rochester, New York, now living in Stockholm, Sweden. His father, Jeff Peden, taught him to juggle when he was five, and started performing with him when he was eleven.
From 2007 to 2010, Wes studied juggling with Jay Gilligan and others at the Dance and Circus University of Stockholm.[1]
Wes has been voted the world's most popular juggler in Luke Burrage's Top 40 Jugglers poll eight times (in 2007, 2008, 2009, 2010, 2012, 2013, 2014, and 2017).[2]
World records
Edit
Wes holds the following world records with publicly available video evidence:
Unverified claims:
5 club backcrosses: 320 catches in 2007 (claim)
7 club (8x,6)*: 16 catches in 2008 (claim)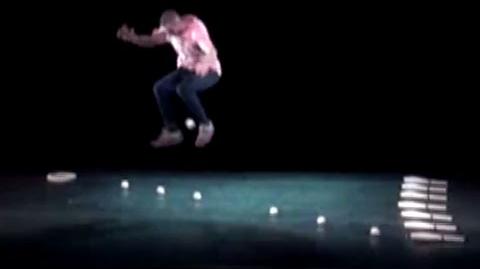 Competitions
Edit
Wes won the following IJA and WJF competitions.[3][4]
IJA 2004:
WJF 2:
WJF 3:
IJA 2007:
eXtreme Juggling: 7 Balls
eXtreme Juggling: 6 Rings
eXtreme Juggling: 4 Clubs
IJA 2013:
eXtreme Juggling: 5+ Clubs
References
Edit
Ad blocker interference detected!
Wikia is a free-to-use site that makes money from advertising. We have a modified experience for viewers using ad blockers

Wikia is not accessible if you've made further modifications. Remove the custom ad blocker rule(s) and the page will load as expected.