Vova Galchenko
Comments

0
516pages on
this wiki
Vladimir Galchenko
[1]
(born September 15, 1987),
[2]
known as
Vova
,
[1]
is a juggler originally from Penza, Russia.
[2]
In 1995 Vova started performing a juggling act with three other boys, however, he soon left the act to practice and perform with his sister
Olga
.
[2]
In 2001, their father began filming them performing tricks and posted the videos online. They soon began receiving invitations to perform abroad. Vova and Olga soon became widely known in the European juggling community for their high level of technical ability, both on and off stage, especially as they were both very young.[3] At the ages of 12 and 15, they broke two club passing world records,[2] and were featured performers at many large juggling conventions and festivals in Europe, including the 2002 British Juggling Convention, the 2002 and 2003 Dresden Juggling Convention, the 2002 European Youth Circus Festival, and the 2003 European Juggling Convention.[3]
In 2003 Vova and Olga moved from Russia to the United States, where they settled in Los Angeles and began training with Jason Garfield to improve their technical skills.[4] They were already better than almost any team before they met Jason. Jason saw their potential and wanted to make sure that they reached it without developing any bad habits. He taught them to catch the clubs on the handles, some throwing techniques, body form and position, and proper practice structure.[5] In 2003, they won the IJA Club Passing Numbers competition with 116 catches of 11 clubs.[6] In 2004, they won the Teams competitions at the IJA[7] and the WJF, and Vova won the WJF Advanced Club Program and three other WJF club competitions. In 2005 Vova won the WJF Team Club Passing competition again with a new partner, Dave Nager, and in 2006 Vova and Olga competed together again and won the Club Passing competition one more time.[8]
Though Olga gave up juggling soon after coming to the US, Vova kept at it, and was able to take his juggling career to new heights with many high profile live shows and media appearances, including features in The New York Times, The Oprah Winfrey Show, The Ellen Degeneres Show, The Today Show, Nightline ABC and many others.[2] Vova was mainly a club juggler when he first started competing at the WJF, so he only entered club competitions, but he started also competing in balls in 2006, and rings in 2007, to improve his Overall Championship score. Vova continued to maintain his juggling practice regimen as he became a student of Mathematics and Computer Science at CalState Northridge in 2007.[2] Vova won the IJA Individuals Stage Competition in 2008,[9] and the WJF Overall Championship in 2011.[10] He was on Luke Burrage's Top 40 Most Popular Jugglers chart every year from 2003 to 2013. He ranked 2nd on the list in 2006.
World records
Edit
Records with publicly available video evidence:
Most connected 6 ring 4 up 360s: 2 in 2007 (video)
360 qualified with the most clubs: 7 clubs, 7 up (video), tied with Anthony Gatto (video)
720 qualified with the most clubs: 5 clubs, 5 up in 2006 (video), tied with Thomas Dietz in 2007 (video), Christof Buch in 2009 (video), Cody Harrington in 2010 (video), Paul Criner in 2010 (video), Daniel Ledel in 2011 (video), Jack Denger in 2012 (video), Iver Tronstad in 2012 (video), Kenny Cheung in 2013 (video), Haavard Hvidsten in 2014 (video), Dave Leahy in 2014 (video), and Jonah Botvinick-Greenhouse in 2014 (video)
1080 qualified with the most clubs: 5 clubs, 5 up 2-stage in 2006 (video), tied with Jason Garfield (video)
Records set in WJF competition:[8]
Most 3 club 3 up 360s in 1 minute: 42 (at WJF 3 and 7)
Most 3 club 3 up 720s in 1 minute: 17 (at WJF 2)
Most 5 ball 5 up 360s in 1 minute: 27 (at WJF 3), tied with Thomas Dietz (at WJF 3 and 4)
Former club passing world records by Vova and Olga Galchenko:[11][12]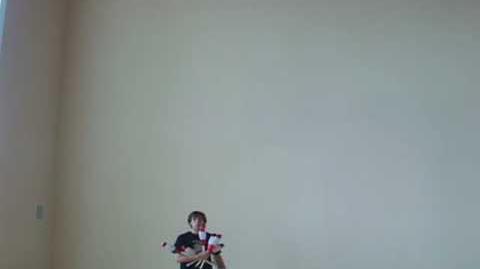 Competitions
Edit
Vova won the following IJA and WJF competitions.[8][14]
IJA 2003:
IJA 2004:
WJF 1:
Advanced Clubs
5 Club Freestyle[15]
3 Club 360s
5 Club 360s
IJA 2005:
WJF 2:
Advanced Clubs
Club Endurance
3 Club 360s
5 Club 360s
Challenge Competitions:[16]
5 Club Low 360s
3 Club Low 720s
WJF 3:
5 Ball Freestyle
7 Ball Freestyle
3 Club Freestyle
5 Club Freestyle
Club Endurance (second person ever to juggle 7 clubs for over 100 catches in competition)
5 Ball 360s (tied with Thomas Dietz)
3 Club 360s
5 Club 360s
Challenge Competitions:[17]
5 Club Low 360s
3 Club Low 720s
7 Ball Isolated Endurance
7 Club Isolated Endurance
IJA 2007:
WJF 4:
Advanced Clubs
5 Ball Freestyle
3 Club Freestyle
5 Club Freestyle
Club Endurance[18]
7 Club Isolated Endurance
5 Club Backcross Isolated Endurance
3 Club 360s
5 Club 360s
IJA 2008:
WJF 5:
Advanced Clubs
6 Club Freestyle
7 Club Freestyle
Ring Endurance (tied with Thomas Dietz)
Club Endurance
7 Club Isolated Endurance
5 Club Backcross Isolated Endurance
5 Ball 360s (tied with Thomas Dietz)
3 Club 360s
5 Club 360s[19]
Triathlon
WJF 7:
3 Club Freestyle
5 Club Freestyle
6 Club Freestyle
7 Club Freestyle
Club Endurance
7 Club Isolated Endurance
3 Club 360s
5 Club 360s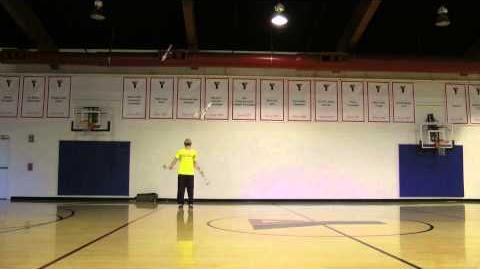 References
Edit
↑ http://www.independent.co.uk/news/world/americas/juggling-world-in-a-spin-over-future-of-the-sport-408744.html