Ad blocker interference detected!
Wikia is a free-to-use site that makes money from advertising. We have a modified experience for viewers using ad blockers

Wikia is not accessible if you've made further modifications. Remove the custom ad blocker rule(s) and the page will load as expected.
 Vladimir Galchenko[1] (born September 15, 1987),[2] known as Vova,[1] is a juggler originally from Penza, Russia.[2]
Vova and his sister Olga moved to the United States in 2003, where they attended a workshop Jason Garfield was teaching in Reno, Nevada. Jason was impressed with their club passing skills and offered to help train them. After being trained by Jason, the Galchenkos became the best club passing team in the world,[3] broke four world records in club passing,[4][5] and won seven IJA and WJF club passing competitions.[6][7]
Vova won the IJA Individuals Stage Competition in 2008,[8] and the WJF Overall Championship in 2011.[9] He was on Luke Burrage's Top 40 Most Popular Jugglers chart every year from 2003 to 2013.[10] He ranked 2nd on the list in 2006.[11]
World records
Edit
Records with publicly available video evidence:
6 clubs on a unicycle: 12 catches in 2003 (video)
6 club shoulder throws: 8 catches in 2007 (video)
6 club b97531: 1 round in 2011 (video), tied with Daniel Eaker in 2007 (video), Manuel Mitasch in 2009 (video), Wes Peden in 2009 (video), Haavard Hvidsten in 2012 (video), Jack Denger in 2013 (video), Luke Davies in 2015 (video), and Kenny Cheung in 2016 (video)
7 club backcrosses: 7 catches in 2007 (video), tied with Anthony Gatto in 2007 (video at 5:15), David Ferman in 2012 (video), Jack Denger in 2013 (video), and Wes Peden in 2015 (video)
Most connected 6 ring 4 up 360s: 2 in 2007 (video)
Records set in WJF competition:[7]
Most 3 club 3 up 360s in 1 minute: 42 (at WJF 3 and 7)
Most 3 club 3 up 720s in 1 minute: 17 (at WJF 2)
Former club passing world records by Vova and Olga Galchenko:[4][5]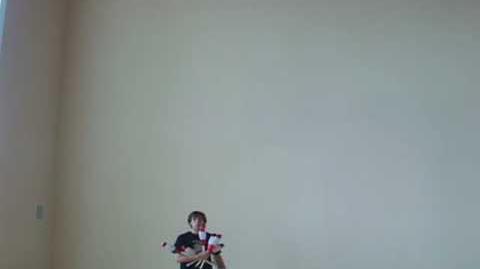 Competitions
Edit
Vova won the following IJA and WJF competitions.[6][7]
IJA 2003:
IJA 2004:
WJF 1:
Advanced Clubs
5 Club Freestyle[13]
3 Club 360s
5 Club 360s
IJA 2005:
WJF 2:
Advanced Clubs
Club Endurance
3 Club 360s
5 Club 360s
Challenge Competitions:[14]
5 Club Low 360s
3 Club Low 720s
WJF 3:
5 Ball Freestyle
7 Ball Freestyle
3 Club Freestyle
5 Club Freestyle
Club Endurance (second person ever to juggle 7 clubs for over 100 catches in competition)
5 Ball 360s (tied with Thomas Dietz)
3 Club 360s
5 Club 360s
Challenge Competitions:[15]
5 Club Low 360s
3 Club Low 720s
7 Ball Isolated Endurance
7 Club Isolated Endurance
IJA 2007:
WJF 4:
Advanced Clubs
5 Ball Freestyle
3 Club Freestyle
5 Club Freestyle
Club Endurance[16]
7 Club Isolated Endurance
5 Club Backcross Isolated Endurance
3 Club 360s
5 Club 360s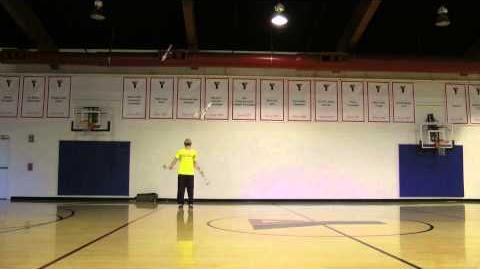 IJA 2008:
WJF 5:
Advanced Clubs
6 Club Freestyle
7 Club Freestyle
Ring Endurance (tied with Thomas Dietz)
Club Endurance
7 Club Isolated Endurance
5 Club Backcross Isolated Endurance
5 Ball 360s (tied with Thomas Dietz)
3 Club 360s
5 Club 360s[17]
Triathlon
WJF 7:
3 Club Freestyle
5 Club Freestyle
6 Club Freestyle
7 Club Freestyle
Club Endurance
7 Club Isolated Endurance
3 Club 360s
5 Club 360s
References
Edit
↑ http://www.lukeburrage.com/audio/Juggling%20Podcast%201%20-%20The%20Top%2040%20Most%20Popular%20Jugglers%20of%202006.mp3