Viktor Kee



Websites
 Viktor Kiktev (born 1970[1] in Priluki, Ukraine), known under his stage name Viktor Kee,[2] is a professional juggler known for his performances with Cirque du Soleil.[3] He has won awards at most of the world's major circus festivals including Cirque de Demain in Paris and the International Circus festival in Monte Carlo.[4]
Viktor started juggling at the age of six in a children's circus school, where he was trained by Alex Gruzin. Viktor started performing at age 11, in a traditional Russian style.[5] Two years later he developed an act combining ball juggling and breakdancing. In 1989 Viktor began a four year training program at the Professional Circus School in Kiev, practicing juggling, acrobatics, acting, equilibristics, and dance for 10-14 hours a day. With the help of Ukrainian choreographer Nikolay Baranov, he developed a unique act incorporating juggling, contortion, acrobatics, and dance. Viktor joined Cirque du Soleil in 1999.[2]
References
Edit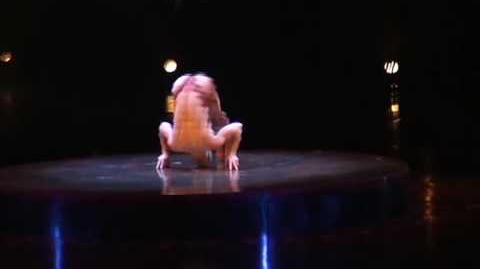 Ad blocker interference detected!
Wikia is a free-to-use site that makes money from advertising. We have a modified experience for viewers using ad blockers

Wikia is not accessible if you've made further modifications. Remove the custom ad blocker rule(s) and the page will load as expected.