Tyler Tojo Fifield,[1] known as Ty Tojo, is a Guinness World Record-holding professional juggler.[2] His coach Dick Franco[3] taught him to juggle in December 2006, and he has been performing all over the world since April 2007.[4]
World records
Edit
Ty set the Guinness World Record for 5 ball backcrosses at age 13 in April 2011, with 248 catches.[5] He has since broken that record on video with over 500 catches. Ty currently holds five backcross world records with publicly available video evidence:[6]
Ty has also done 5 ball backcrosses for over 100 catches while isolated on a stool,(video) performed 49 catches of 7 ball backcrosses onstage,(video) and juggled 9 balls for over 100 catches(video) onstage.
References
Edit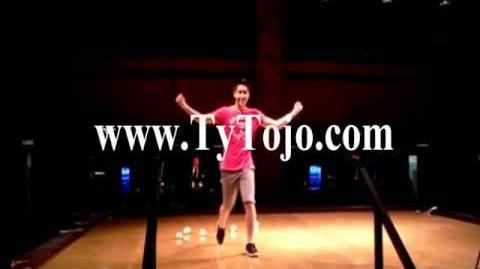 Ad blocker interference detected!
Wikia is a free-to-use site that makes money from advertising. We have a modified experience for viewers using ad blockers

Wikia is not accessible if you've made further modifications. Remove the custom ad blocker rule(s) and the page will load as expected.