Thom Wall (born in 1987)[1] is an American juggler, originally from St Louis, Missouri.[2] He was featured on the Top 40 Most Popular Jugglers of the Year chart eight years in a row (2010-2017).[3][4][5][6][7][8][9][10]
In 2014, Thom placed third at the IJA stage competitions with a mouthstick act. This was the first time a mouthstick routine had placed in the competitions in the IJA's 67-year history.[2]
Thom has been performing in Cirque du Soleil's Totem since 2014 as a solo juggling act.
Competitions
Edit
Thom placed in the following IJA competitions.[11]
2008:
2009:
2010:
eXtreme Juggling: 4 Balls - 1st place
2011:
Individual Props: 3 Balls - 1st place
2012:
Stage: Individuals - 2nd place
2014:
Stage: Individuals - 3rd place
2017:
Individual Props: 3 Balls - 3rd place
Individual Props: 3 Rings - 1st place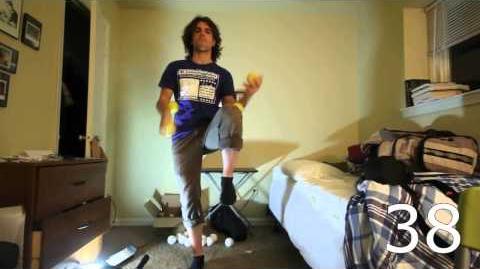 References
Edit