Tanner Alder is an American juggler who lives in Utah. He started juggling in 2008, and in August 2011 he became the 3rd person ever to do a 7 ball 1 high 6 low 360 (Thomas Dietz and Lauge Benjaminsen had done it before), and the youngest ever to do it on video (he was 15).[1]
What do you like about juggling?
I like juggling because there are so many different possibilites with tricks and variations, so you never get bored. I also like it because its a stress reliever and looks really cool and is a hobby that is a little different from everybody else.
What is your favorite prop?
My favorite prop is balls, mostly because you can do them anywhere and so thats why I practice them the most. Things like the wind don't affect them as much so you can juggle outside.
What are your favorite tricks?
I like pretty much everything. Technical and creative juggling. 7 up 360s are really fun but so are 3 ball under the leg combos. I like to practice with a mixture of new/technical juggling and I really love to see people doing both.
How did you start juggling?
I started juggling in 6th grade. My PE teacher could do 3 balls and so he decided to take a week and teach us all how to juggle. I had always wanted to learn but it was cool to finally try it out. I was probably a slower learner than most, and probably spent 8 hours at home before i had a solid 3 ball cascade. After that my improvement sky rocketed and I was the one teaching my teacher :)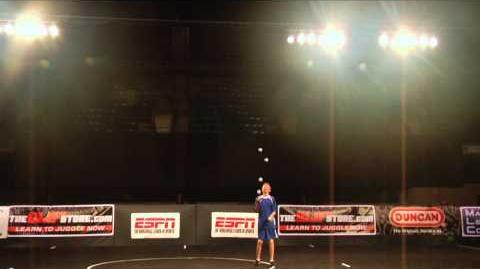 Competitions
Edit
Tanner placed in the following WJF competitions.[2]
WJF 6:
WJF 7:
WJF 8:
5 Ball 360s - 2nd place
5 Ball Freestyle - 1st place
References
Edit