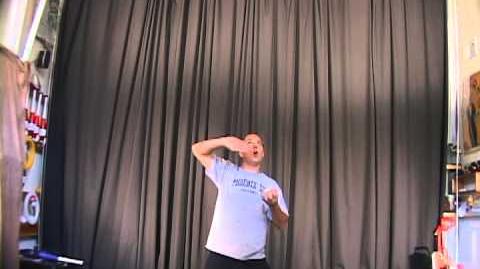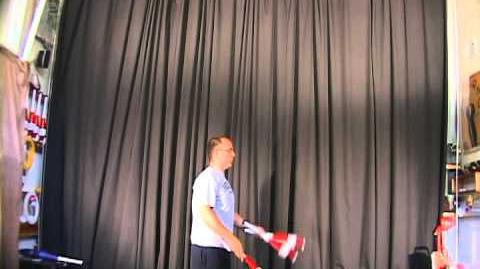 Overhead throws or overheads are throws made with the arms in a position where the forearms are higher than the upper arms, and the props are thrown from a position near the side of the head. In the overhead position, the elbows should stay at least as high as the shoulders, and stick out either forwards or to the sides.
For overhead throws with balls, pointing the elbows out to the sides is more efficient than pointing them forwards. For overhead throws with rings or clubs, point your elbows forward, positioning them at the same width as if you weren't doing overhead throws.
Start with your hands shoulder-width apart, not right in front of your face.
For low throws, use mostly your forearms, keeping your upper arms (which are now the lower part of your arms) mostly horizontal. For high throws, use your upper arms too.
To transition from the basic pattern to overheads, throw all but two objects a little higher (and slightly backward) to make time to move your arms up to the overhead position. In an asynch pattern, you can reposition one arm at a time.
World records
Edit
Overhead world records with publicly available video evidence (all catches of objects thrown from the overhead position are counted):
Records with insufficient video evidence:
3 ball overheads: ~40 minutes by Vašek Peca in 2017 (video doesn't show the whole run)
Unverified claims: