Jason Garfield
Comments

0
514pages on
this wiki
Jason Garfield
(born August 9, 1974) is an American juggler who was born in Norwalk, Connecticut and grew up in Seattle, Washington. He is the founder and president of the
World Juggling Federation
.
Jason started juggling at age 11, with the goal of becoming a better juggler than his brother, David. He achieved this goal a few days later, and decided to become a serious competitive juggler. Jason won the 1988 IJA Juniors competition at age 13.[1] By the time he was 15, he had juggled 9 balls, 9 rings, and 7 clubs, and done 200 catches of 5 club backcrosses.[2]
After being awarded only 5th place for his 1st place routine in the IJA Individuals Competition in 1990, Jason quit juggling for 6 years, taking this time to teach himself to play the piano and make videos. Then, at age 22, Jason became interested in juggling again after accepting a job performing at the Ohio State Fair. Jason dove right back into practice, surpassing his previous skill level within 2 months. Jason went on to juggle 10 balls[1] and 10 rings,[3] and tied with Bruce Sarafian for the 11 ball world record (12 catches) in 1997.[4] In 2000, Jason beat Bruce's record with 14 catches (video).[5] (The current world record for 11 balls is 25 catches by Alex Barron.)[6]
Jason won the IJA Individuals Stage competition in 1998 and 2002. After performing his 2002 routine, which was a parody of previous IJA competitors' performances, Jason received three Lucas cups: one for his 2002 win, one that he had never received for his 1998 win, and one that Mark Nizer surrendered to him from 1990.[7]
In 2003 Jason met Olga and Vova Galchenko in Reno, Nevada. Jason had been teaching a week long workshop and the Galchenkos attended it on the last day. Jason was impressed with their abilities, especially considering their age at the time (Olga was 12 and Vova was 15). After returning home, Jason sent them an email, offering to help train them. Jason saw their potential and wanted to make sure that they reached it without developing any bad habits. They were already better than almost any team before Jason met them, but Jason taught them to catch the clubs on the handles, some throwing techniques, body form and position, and proper practice structure. After being trained by Jason, the Galchenkos became the best club passing team in the world,[8] broke four world records in club passing,[9][10] and won seven IJA and WJF club passing competitions.[11][12]
Jason founded the World Juggling Federation in 2000, out of a desire to expand public awareness of juggling as a sport,[3] and to increase the amount of good competitive jugglers in the world.[8] In 2004, Jason secured his first five TV deals with ESPN.[3] Jason now had to produce a competition. He decided to produce a convention at the same time, specifically dedicated to sport juggling.[8] Looking to the competition structure of gymnastics and consulting with an olympic gymnast, Jason formed the first set of WJF competition rules. Having absolutely zero experience in event planning and TV production, Jason took it upon himself to produce the first WJF convention,[3] with workshops, exhibitions,[8] and a series of competition programs that aired on ESPN and ESPN2 in early 2005,[3] and he has continued to produce WJF events every year.
Jason has been producing instructional materials for juggling since 2000, starting with the series of Juggling Master videos.[13] The latest updated versions of his instructional videos and book are:
Jason was voted the world's most popular juggler in Luke Burrage's Top 40 Jugglers poll in 2004.[14]
World records
Edit
Jason holds the following world records with publicly available video evidence: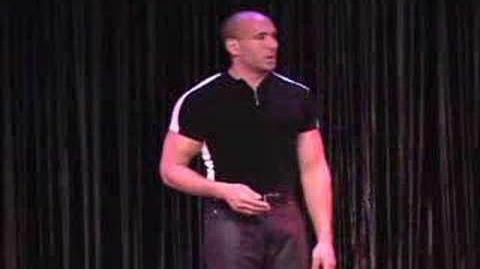 Competitions
Edit
Jason won the following IJA and WJF competitions.[11][12]
IJA 1988:
IJA 1990:
Numbers: Solo Balls
Numbers: Solo Rings
IJA 1998:
Numbers: Solo Balls
Numbers: Solo Rings
IJA 2000:
Numbers: Solo Balls
Numbers: Solo Rings
Numbers: Solo Clubs
IJA 2001:
IJA 2002:
WJF 1:
WJF 2:
Challenge Competitions:[15]
5 Ball Low 360s
5 Ring Low 360s
WJF 3:
Advanced Rings
5 Ring Freestyle
6 Ring Freestyle
Ring Endurance
Challenge Competitions:[16]
5 Ball Low 360s
5 Ring Low 360s
References
Edit
↑ http://web.archive.org/web/20030205185811/http://www.jasongarfield.com/NewJasonGarfield.com/Pages/bio.html