b9753

7 ball 5-beat freeze-frame

Capacity

7

Period

5

Full period

20

Orbits

5

Composition

Prime

(Ground state)
1111111 (b)
11111100001 (9)
1111100011 (7)
111100111 (5)
11101111 (3)

76543

Self-dual
 B9753 is a symmetrical 7 object siteswap where all the throws cross. Each of five consecutive throws is made lower than the last so that they are caught in the reverse order: the last of the five is caught first, and the first one is caught last. All five of those throws should peak at the same time. The b (an "11") should be almost three times as high as the cascade. This is an easier version of db97531.
Before learning this pattern, you should already be good at b97531, 975, b6666, and 88883 (starting each one from both sides).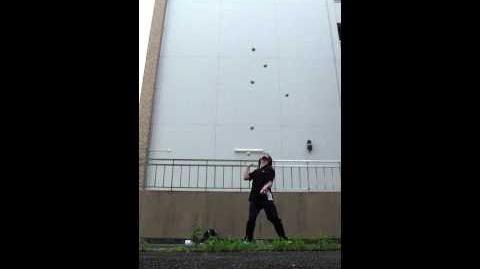 Variations
Edit
Ad blocker interference detected!
Wikia is a free-to-use site that makes money from advertising. We have a modified experience for viewers using ad blockers

Wikia is not accessible if you've made further modifications. Remove the custom ad blocker rule(s) and the page will load as expected.