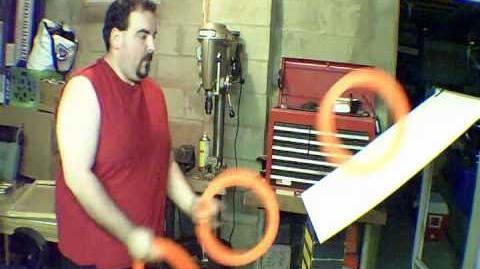 Angled surface rolling is the juggling of objects, usually balls, by throwing them onto some sort of highly angled flat or curved surface and the object rolling back downwards along the surface where they will either be picked up and thrown again or fall off the edge and be caught by the juggler. This is a form of rolling juggling.
There are a multitude of positions and techniques that can be juggled with using this style, so far two jugglers have put out videos exploring them. Richard Kohut explored sitting beneath the angled surface, 360s, penguin catches, behind the back catches, and ring juggling; and Steve Hoggan explored siteswap and high numbers.
Possible Props
Edit
This form of juggling is limiting in a way, in that it does not allow every prop to be used on the surface, for example, clubs roll off the sides when placed on the surface, and have yet to be juggled.
Balls, rings, and sticks have been proven to be possible. Rings can be juggled either by rolling them vertically on the surface with backspin, or can be landed sideways on the surface and allowed to slide back down.
Balls have been done by regular juggling with normal types of techniques like backcrosses or body throws and penguin catches, and have also been juggled on the surface via foot kick-up and catches. They can also be allowed to roll off the edge of the surface before being caught, or picked up off the surface before falling off.
Variations
Edit
Michael Karas has created a variation in his video Spark, where he does not throw the objects along the surface, but instead pushes objects up from underneath and then allows them to slide back down again in a much more static form of juggling which is vaguely similar to cigar box juggling.
Ad blocker interference detected!
Wikia is a free-to-use site that makes money from advertising. We have a modified experience for viewers using ad blockers

Wikia is not accessible if you've made further modifications. Remove the custom ad blocker rule(s) and the page will load as expected.