99944

7 ball 3 high 2 low

Capacity

7

Period

5

Full period

35

Orbits

1

Composition

Prime

(Ground state)
1111111 (9)
111111001 (9)
111110011 (9)
111100111 (4)
11110111 (4)

77744
 99944 is a symmetrical 7 object siteswap similar to 744, but with three high throws per round. The 9s are almost twice as high as the basic pattern, and the 4s are about a quarter of the height of the basic pattern.
Video: 3 rounds of 7 ball 99944 by Alex McGillivray
Siteswap exercises
Edit
You can use these exercises to practice the same kinds of throws and sequences of throws that are done in this pattern, before you learn the full pattern.
Some of the siteswaps listed below are shortened to leave out parts where you're not doing anything. Click on them to see animations of the exercises.
You should practice doing these starting with your right hand and with your left hand, so that you will be ready to learn the full symmetrical pattern.
Prerequisites: 966, 99444, 999333
Exercises to prepare for 99944:
Variations
Edit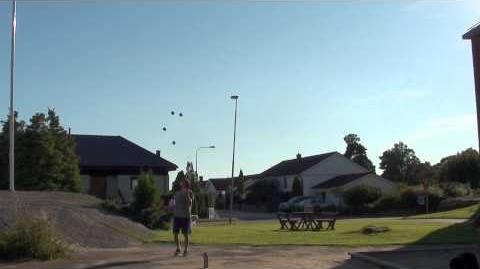 Ad blocker interference detected!
Wikia is a free-to-use site that makes money from advertising. We have a modified experience for viewers using ad blockers

Wikia is not accessible if you've made further modifications. Remove the custom ad blocker rule(s) and the page will load as expected.