8888881

7 ball 6 high 1 low

Capacity

7

Period

7

Full period

49

Orbits

1

Composition

Prime

(Ground state)
1111111 (8)
11111101 (8)
11111011 (8)
11110111 (8)
11101111 (8)
11011111 (8)
10111111 (1)

7777771
 8888881 is a symmetrical 7 object siteswap where most of the throws are non-crossing throws at 8 object height (about 1 1/3 times as high as the cascade), and on every seventh beat an object is passed from one hand into the other. This is the 7 object version of 66661, and can be used as an exercise to prepare for learning to juggle 8.
Before learning this pattern, you should already be good at 8888120, 6 ball asynch high flashes (starting from both sides), 8888811, and 888882 (starting from both sides).
Video: 7 ball 8888881 with a pass up the back by David Ferman
Variations
Edit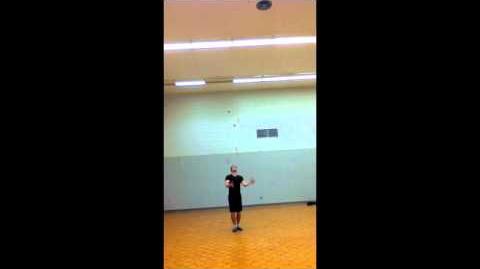 Ad blocker interference detected!
Wikia is a free-to-use site that makes money from advertising. We have a modified experience for viewers using ad blockers

Wikia is not accessible if you've made further modifications. Remove the custom ad blocker rule(s) and the page will load as expected.