642

4 ball high-low right-left left-right

Capacity

4

Period

3

Full period

6

Orbits

4

Composition

Prime

(Ground state)
1111 (6)
111001 (4)
11011 (2)

432

Self-dual
 642 is a symmetrical 4 object siteswap where none of the throws cross. The throws alternate between high throws (6s) and low throws (4s). The high throws should be almost three times as high as the low throws. The throwing rhythm is right-left-pause-left-right-pause... with a 1-beat pause (a 2) between throws with the same hand. When the pattern is done with the right heights and a good even rhythm, the 6 and the 4 peak at the same time. All the 6s are done with the same two objects, and all the 4s are done with the other two objects.
Before learning this pattern, you should already be good at 423, 612, 6420 (starting from both sides), 552, and 6424 (starting from both sides).
Variations
Edit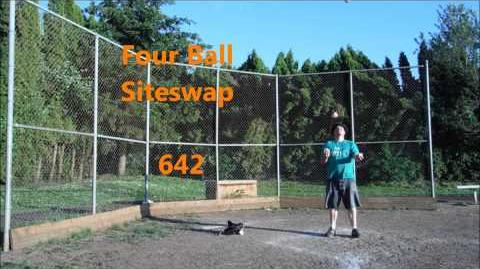 Ad blocker interference detected!
Wikia is a free-to-use site that makes money from advertising. We have a modified experience for viewers using ad blockers

Wikia is not accessible if you've made further modifications. Remove the custom ad blocker rule(s) and the page will load as expected.